One of the managers at work won a contest and used some of the money she won to order pizza from
Larry's Pizza
. It was the most wonderful pizza I have ever had.


When my husband and I were trying to figure out where to eat out the other afternoon for a treat, I suddenly remembered Larry's Pizza. Richard loved it as much as I did.


I did my best this afternoon to replicate my favorite, the baked potato pizza, and came up with something pretty good, but not as good as Larry's. I've made a vow to stick to my grocery budget--no extra trips to the grocery store between paydays, so there was no bacon, chives, or sour cream. But it was pretty tasty all the same, and next payday bacon, chives, and sour cream will be on the grocery list along with potatoes!


I also made a pizza with salami, oven dried tomatoes from the garden, basil from the garden, and provolone cheese. Both pizzas had a
béchamel
rather than tomato sauce.
Baked Potato Pizza Ingredients:
Pizza crust

(I took the short cut today and did the bread machine pizza crust)

About a cup of

béchame

l sauce

About 6 new potatoes, but next time I'll probably double it, baked and sliced into rounds

About a cup and a half of grated cheddar cheese.
And I would recommend about 4 or 5 slices of bacon cooked and chopped up and several tablespoons of chopped chives and sour cream drizzled over the top!
Directions:
Spread on the

béchame

l sauce.
Cover the pizza with a layer of potatoes.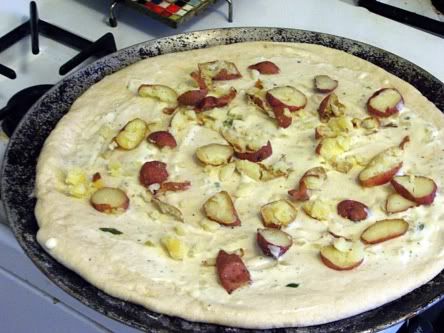 Then the bacon and chives.

Then the cheese.
Bake for 20 to 25 minutes at 425 degrees.
Salami Pizza Ingredients:
About 6 to 8 rounds of salami

A couple handfuls

oven-dried tomatoes

A handful of shredded basil

About 6 rounds of provolone cheese, torn in big pieces to cover the pizza.
Directions: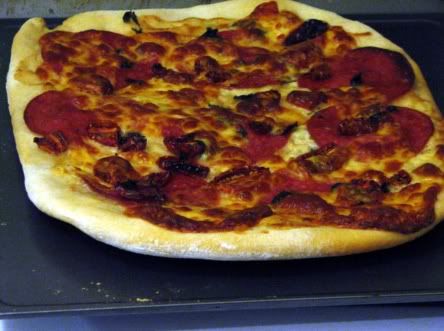 Make the pizza crusts and bake the potatoes.

Spread on the

béchame

l sauce.

Cover the crust with a layer of salami.

Sprinkle over oven-dried tomatoes.

Sprinkle over basil.

Cover with provolone cheese.

Bake for 20 to 25 minutes at 425 degrees.