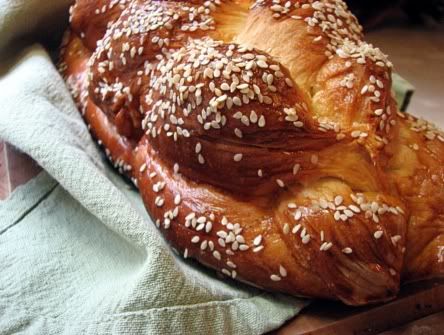 Another yummy bread recipe from
The Vegetarian Epicure
, by Anna Thomas.
Ingredients:
1 pkg. active dry yeast
2 tsp sugar
1 1/4 cups warm water
4 1/2 to 5 cups white flour
2 tsp. salt
2 eggs
2 TB butter
1-2 egg yolks
Sesame seeds or poppy seeds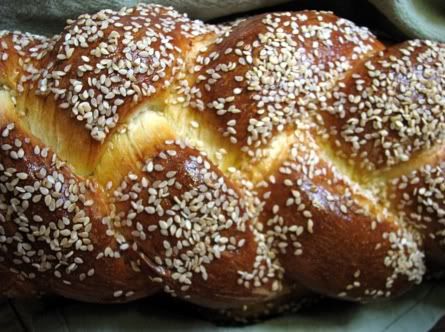 Directions:
Dissolve the yeast in 1/4 cup of water and add sugar.
Sift 4 cups of flour together with the salt into a large mixing bowl and add the 2 eggs, the melted butter, and the rest of the water, as well as the yeast mixture.
Stir until all is well-blended.
Dust a flat surface with about 1/2 cup of flour and turn the dough out to knead.
Knead in as much of the remaining flour as needed to make a smooth, elastic, non-sticky dough.
Grease a large bowl and put the dough into it.
Cover and leave it to rise in a fairly warm place for about 1 hour.
Punch it down and let it rise again until doubled in bulk.
On a lightly floured surface, shape the Challah:
First divide the dough into 2 parts--one slightly larger than the other.
Then cut the larger part into three equal pieces. Roll thepieces into strips and form a fat, even braid.
Place it in the middle of a buttered bakingsheet.
Now repeat this procedure with the smaller piece of dough, and place the second braid on top of the first.
Cover with a light tea towel and let rise for about 1/2 hour.
Brush the loaf heavily with the egg yolk and sprinkle it generously with poppy or sesame seeds.
Bake at 375 degrees for about 50 minutes.