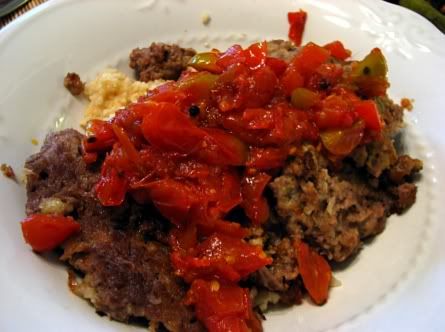 Ingredients:
3/4 cup cubed stale, firm white bread, crustless

1 1/4 pounds lean ground lamb or beef

1 small onion grated

1/4 teaspoon ground cumin

salt

1/4 tsp freshly ground black pepper

1 egg, well beaten

2 tsp olive oil.
For the sauce:
2 tsp olive oil

2 ripe tomatoes, peeled, seeded, and chopped

1 tsp chopped mediume hot green chili

pinches of salt

and sugar

1/4 tsp crushed garlic

1 tsp red wine vinegar
Directions

:
Kofte:
In a bowl, pour warm water over the bread cubes and le them stand for a few iutes.

Press out and discard the liquid, leaving the bread in the bowl.

Add the meat, onion, cumin, salt, and black pepper and knead until well blended.

Add egg to the mixture and knead with a fork until light and well combined.

Shape into four patties and fry on both sides to desired doneness.
Tomato sauce:
In a second skillet, warm the olive oil.

Add the tomatoes and chili and cook over high heat, stirring until thick.

Add the salt, sugar, garlic, and vinegar and bring to a boil, stirring,.

Set aside makes about 1 cup.
We served ours with couscous, the meat patties on top and then the tomato sauce over that.