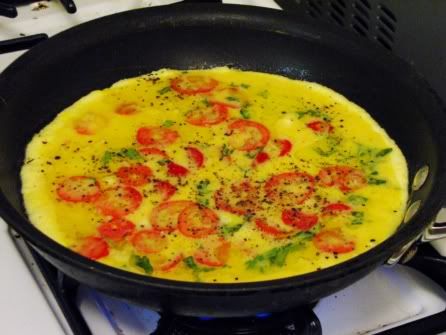 This has been one of my favorite easy dinners this summer. Just run out to the garden and grab a few small plum tomatoes and a handful of basil, run back in and break a few eggs . . . you get the idea.
Ingredients:
Olive oil

5 or 6 eggs, whisked with a little milk

3 or 4 small plum tomatoes

Basil to taste

2 slices of provolone cheese

salt and pepper
Directions:
Heat the oil on medium high.

Pour in the egg mixture and toss on the vegetables and herbs.

Heat the broiler.

Run a spatula along the side and lift up the set eggs to allow the unset to run under.

When the eggs are set tear the cheese slices to cover and put under the broiler until golden.