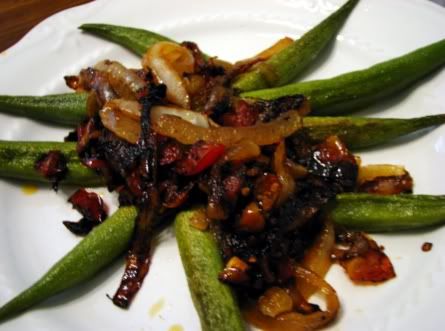 So much okra from the garden, I've been having to try all sorts of recipes. This one was very good, from

The Cooking of the Easter Mediterranean

by Paula Wolfert..
Ingredients:
1 Lb. firm crisp okra, each vegetable about 3 inches long

1/4 cup white vinegar

1 TB coarse salt

5 1/3 Tb olive oil

2 medium onions, halved and thinly sliced.

5 cloves garlic, peeled and thinly sliced.

2 large ripe tomatoes, chopped

1 tsp sugar

1/2 cup water

salt and freshly ground black pepper to taste

Juice of 1/2 lemon.
Directions:
Rinse the okra and carefully pare the tops, taking care not to cut into the pod. Toss with the vinegar and coarse salt and let stand one hour. Rinse again and dry on kitchen toweling.

In a non stick skillet, heat 2 TB of the oil, add half the okra, and quickly brown on all sides. Tilt the skillet to keep the oil while removing the okra to a side dish. Repeat with the remaining okra.

Add another tablespoon of the oil to the skillet, add the onions and sliced garlic, cover and cook over medium heat until the onions are wilted and golden, about 2 minutes.

Add the tomatoes, sugar, water, and salt and pepper, and simmer, covered 10 minutes.

Add the lemon juice.

Arrange the okra tightly in a spoke patter with the tips pointing toward the center. Spoon the tomato and onion mixture over the okra.