John Marlow and Hazel Caldie Marlow on their Wedding Day in 1912


After I got off the phone with Mom and then my maternal grandmother ("Granny") this Mother's Day morning, I was thinking about food--as you know I often do. Go figure!
Several years ago I was reading a book about ethnic food traditions in America and the foods we inherit through our mothers. I remember quizzing Mom and Granny to death on the foods that they both grew up on. I have tons of notes somewhere that I took, probably buried with my geneaology stuff that is a come and go hobby, but some of the things I remember them talking about was the huge gardens (Granny was raising twelve kids on Grandpa's small salary) and all the potatoes down in the cellar, about night-time smelt runs, and kolaches, the Friday fish frys at Grandpa Thibodeau's ice cream parlour, and my mom's paternal Grandma Hazel Marlow's frosting--which was evidently something amazing.
Great-Grandpa Thibodeau's ice cream parlour (in an earlier incarnation as a "confectionary store")in Ashland, WI. Pictured are his brother William and sister Gertrude, circa 1910. My Granny, Lorraine Thibodeau Marlow, grew up in the above apartment.
You may have gathered from the above description that my Mother's family is not from the South! Mom is mostly descended from French Canadians who immigrated to Wisconsin at the turn of the century. Except my Great-Grandfather married a half Scottish lady (the other half, of course, was Canadian French), Hazel Caldie, whose grandfather Thomas Caldie had hacked their farm out of the wilderness in 1862 near what would become Stiles, Wisconsin.
The extended Marlow family sometime in the twenties, probably on the farm (I think outside Denmark, Wisconsin). Grandma Hazel Caldie Marlow is circled, one of my great uncles is directly below her, the man above her is my Great-Grandpa John Marlow, and on his lap is another of my great uncles (my Grandpa wasn't born yet). I believe the rather stern looking lady in the top row center is my great-great Grandma Marlow (doesn't she just look like the matriarch of a farm family?), and the graying gentleman with the moustache and white shirt to the left is my great-great Grandpa Marlow.
I never did get the frosting recipe, but Mom managed to track down some of Grandma Hazel's other recipes from my Great Aunt Bev, who still had an old recipe box of Grandma Hazel's. My Aunt Mary evidentally requested this recipe, which she had childhood memories of: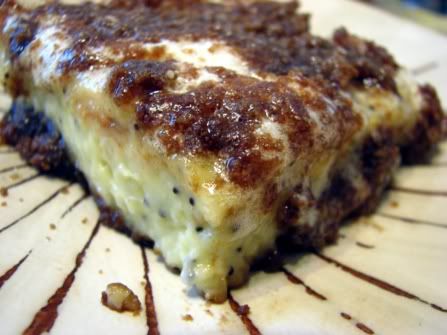 Ingredients:
2 cups graham cracker crumbs

3/4 cup brown sugar

1/2 cup butter

1/2 cup poppy seed

1/2 cup sugar

6Tbls. flour

Dash of salt

2 cups milk

3 egg yolks

1t vanilla

3 egg whites
6 TB sugar

Directions:
Mix crumbs sugar & butter. Reserve 1/2 cup for topping.

Mix poppyseed, sugar, flour, salt & 1/2 cup milk to smooth paste.

Scald 1 1/2 cups milk, add the flour mixture slowly.

Boil 5 minutes (turn the heat down if necessary)

Beat egg yolks & vanilla, add slowly to custard white stirring rapidly & cook five more minutes.


Cool.

Put the mixture of crumbs, brown sugar & butter in pyrex pan. Pour custard over. Beat egg whites stiff , add 6Tbls. sugar, beat until thick & holds peaks.

Put over top and sprinkle with crumbs. Bake 15 minutes at 325 degrees.
Like most of the family recipes from Wisconsin, this is not Scottish, or French Candadian, but Eastern European! Which, I always find rather amusing, since it is actually on my Dad's side of the family (Nebraskan pioneers) that I'm descended in part from Bohemians (the Tesars).
If you are interested in Wisconsin cuisine visit Wisconsin food writer
Terese Allen's
web page.
Grandma Hazel with one of the "boys" (my mom had eight brothers!, who knows which one this is?)