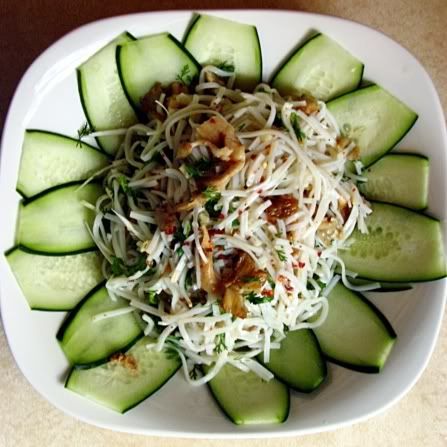 Ingredients:
1/2 lb oyster mushrooms

1 1/2 TB sesame oil

3 cloves garlic, small dice

1/2 tsp salt

1/2 bundle of cooked rice noodles

1 large scallion, trimmed, and cut lengthwise in thin slices

1/2 cup cilantro

Freshly ground black pepper

1 cucumber cut into long thin slices
Dressing:
2 TB lime juice

2 TB thai fish sauce

1/4 tsp chili flakes

1/2 TB sugar
Directions:
Mix the dressing together, and toss half with the cooked noodles, put aside.

Preheat the broiler.

Separate the clumps of oyster mushrooms.

Brush with sesame oil.

Broil on both sides until golden and crisped up on the edges.

Heat the oil and stirfry the garlic, stir in the salt and sugar and remove from the heat.

Toss the garlic mixture with the cooked mushrooms.

Add the mushrooms, scallion, and coriander to the noodles, tossing gently.

Line a dish with the sliced cucumbers.

Mound noodles in the center and add the rest of the dressing immediately before serving.