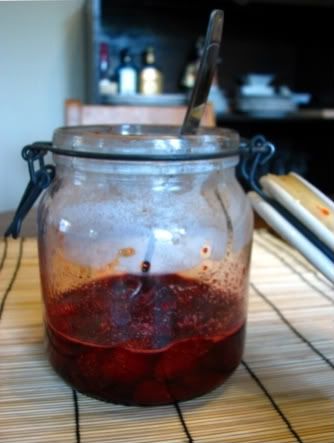 We bought a pound and a half of strawberries at the Argenta farmer's market on Tuesday. I knew there was no way that the two of us would go through that many strawberries before they started getting bruised and soft, so I decided to make strawberry preserves.
I also still had about a cup of orange syrup from making the
Candied Orange Peel, which I substituted for the 1/2 a cup of sugar and 1/2 cup of water.
Ingredients:
1/2 cup sugar
1/2 cup water
1 1/2 LB stawberries, washed, trimmed, and cut into bite size pieces
Directions:
Stir the sugar and water over low heat to dissolve the sugar, then bring to a boil.
Add one half of the strawberries to the syrup and let return to a boil.
Cook the fruit for one minute.
Use a slotted spoon and transfer the berries to a colander set over another dish to catch the drips.
Stirring occasionally, boil the syrup for about five minutes to reduce to original volume.
Cook the second batch of berries in the syrup for one minute.
Transfer to the colander.
Tip the juices from the strawberries into the syrup.
Boil the syrup for another five minutes.
Add the berries back to the syrup, and allow to simmer for five minutes, stirring occasionally.
Spoon into a sterile jar--the preserves will keep for up to six months in the fridge, if you want to store them longer, process them in a boiling water bath.
I served mine with
Fry Bread for breakfast.
Was it worth the mess?