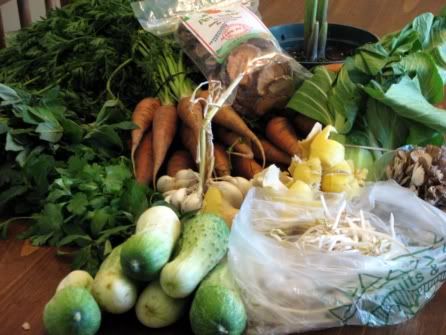 Well, I was a good girl today and left my camera at home when my husband and I went to the farmer's market to meet an old highschool friend. What could be more distracting when visiting an old friend than me ducking around trying to get pictures of everything?
My friend and I had yummy huevos mexicanos and tirados while waiting for Richard to stand in the longest line in the whole place for some pancakes.
I managed to stick to my list, which was extensive as I hadn't been to the market in over a week. My haul ended up including 3 bundles of carrots that looked like they had just been plucked out of the ground, bok choy, garlic, a pot of lemongrass to plant in the garden, cilantro, mint, thai basil, and another herb from the Asian vendors that we love (but I don't have a clue as to its name), cucumbers, two kinds of oyster mushrooms, and sweet potato treats for Patty.
I spent the early part of the morning preserving some of the veggies for the rest of the week, including
Duo Gai and
Simple Refrigerator Pickles
.