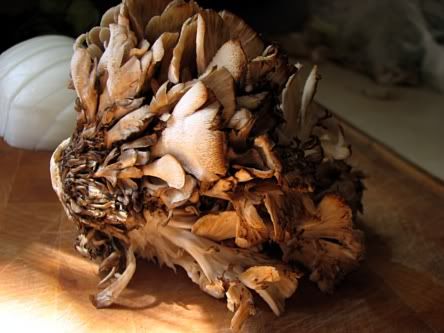 So, we're pretty sure the sign at the farmer's market said that this mushroom is hen of the wood. Which is also known as maitake--so I thought I'd go with a Japanese recipe for this one. We love Ramen, for one because it's easy, and two because it's versatile. I've made Ramen so many different ways before I blogged that I can't remember all the yummy variations. One of the reasons I'm doing this blog is purely so that I'll have access to all my mad experiments after I've forgotten thm!

Promise, this one's pretty sane!
And to be completely honest, it's a riff off of Alton Brown's
Ramen Shrimp Pouch
My recipes are generally for two people, but this one serves 4.


Ingredients:
3 chicken thighs

3 package Ramen noodles

6 cups chicken broth (from cooking the chicken thighs)

1/2 cup mirin

1/4 cup soy sauce

4 tsp sesame oil

1 clump hen of the wood or oyster mushrooms

1 sliced onion

1 small parcel of bok choy, chopped

1/2 cup scallions sliced

Fresh ground white pepper to taste

Honey to taste

Directions:
Place the chicken thighs in a small sauce pan and cover with 7 cups of water, bring to a boil, then turn down to medium low heat and allow to simmer for about 30 minutes.

Remove the chicken thighs from the liquid and put in the fridge to cool, when it is cool enough to handle shred the chicken.

Strain the liquid and reserve six cups.

Cook the ramen noodles per package instruction, but discard the seasoning packets. Strain the noodles, run cold water over them, and put to the side.

Combine reserved chicken broth, mirin, soy sauce, and sesame oil, bring to a boil and add the bok choy.

Turn down to a slow boil and cook the bok choy and onions for about 5 minutes or until the tenderness is to tase.

Add the mushrooms and the scallions and the shredded chicken.

Sprinkle on white pepper.

Drizzle over honey.

Place cooked ramen in the bottom of each bowl and ladle soup over.

Serve with ichimi.