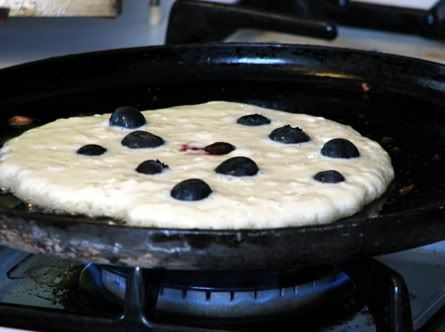 Mom and Dad dropped by to visit for a little while on their way home from a trip to Little Rock yesterday . Mom very thoughtfully brought along 2 quart size bags of blueberries that she picked at my Uncle Jeff Marlow's blueberry farm outside of Hagarville, Ar.
After reviewing several recipes online for blueberry pancakes, I went with my old everyday pancake recipe and just dropped 8-10 blueberries evenly on top of the pancake as it cooked on the griddle.
Ingredients:
1 1/4 cups all purpose flour

2 TB sugar

2 tsp baking powder

3/4 tsp salt

1 egg

1 1/3 cups milk

Vegetable oil
Directions:
In a large bowl mix the first four ingredients.

In a smaller bowl beat the egg and stir in milk and 3 TB of the vegetable oil.

Add to the flour mixture and stir until flour is just moistened.

Heat griddle over medium high heat and brush with oil.

Pour batter by the 1/2 cup onto the hot skillet.

Cook until the top bubbles, and the sides look try.

Turn over with a flipper and cook until underside is golden.

Serve with honey, maple syrup, or syrup of your choice.