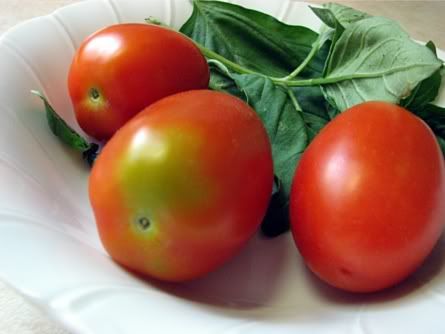 I was very excited today when I went out to the garden and saw that I had three ripe romas. I had planned on making a recipe on another blog with my first tomatoes, but unfortunately I didn't have mozarella in the house, so I whipped this up instead, using some basil from the garden and some garlic from the farmer's market.


Ingredients:
1/3 cup olive oil
3 cloves of garlic minced
5 Roma tomatoes, small dice
1/4 tsp freshly ground black pepper
Splash of balsamic vinegar
1/3 cup basil chopped
1/4 cup Parmigiano Reggiano grated
Directions
Boil water for the pasta.
Heat the garlic in the olive oil until tender, medium heat.
Add the tomatoes, black pepper, and vinegar.
Meanwhile cook the pasta, if using fresh this should take between 30 seconds to two minutes.
Drain the pasta and return to pan.
Pour the olive oil and vegetable mixture over the pasta and mix.
Add the basil and mix.
Add the cheese and mix.
Serve in two bowls with additional cheese on the side.