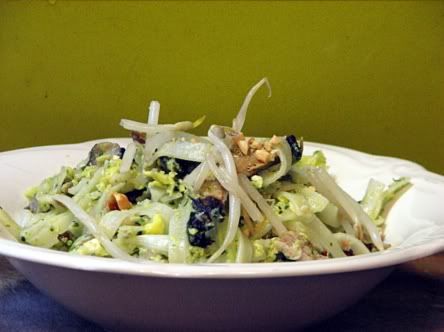 So after I created my Southeast Asian style pesto, what to serve it with but noodles? The dish I came up with has some similarities with pad thai.


Ingredients:
2 Dried mushrooms (to be honest I'm not sure what they are called, I get them at the Asian market and the writing is all in ideograms)

1 Cup hot water

1/2 Package of flat rice noodles

8 Scallions, cut in inch long pieces

1/4 cup Thai Basil pesto

1 TB Fish sauce

1 TB Lime juice

1/2 Package of flat rice noodles

2 eggs whisked together

4-8 Oz. thinly sliced pork depending on how big of a meat eater you are (I used pre-cooked pork slices that I had marinated in oil, lime juice, garlic, salt, and pepper and had frozen earlier for future use)
Directions:
Heat water to boiling and add mushrooms to hydrate. I do mine in a little jar to add steam into the mix, you can also do it in a bowl, just put something on top of the mushrooms as a weight because they will float.

Also bring 4 quarts of water to boil on the stove. Turn the heat off and add the noodles. Leave to sit for 8 or 10 minutes, or until al dente.

Remove the noodles and drain in colander. Spray with cold water so they will stop cooking and allow to drain.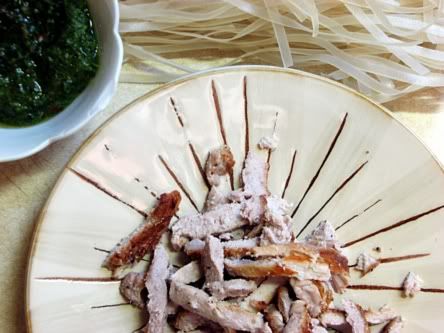 When the mushrooms are hydrated, slice them thinly.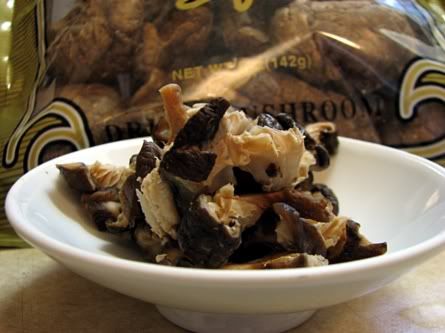 Heat some vegetable oil on medium high heat in a wok, or other heavy pan, and add the scallions and the mushrooms.

If you are using raw pork, add it to the mix at this point.

Then add the pesto and heat it through until fragrant, and (if using raw) the meat is browned.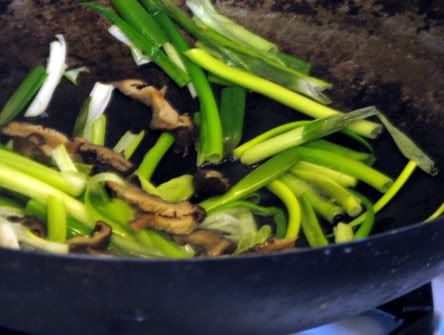 Add the noodles, and stir fry until will coated with the pesto.
Flatten the noodles out around the pan, and add the egg and let it cook until it is starting to set.
I used pre-cooked and pre-marinated pork, and added it at this time.

Continue stir frying until everything is warmed through.