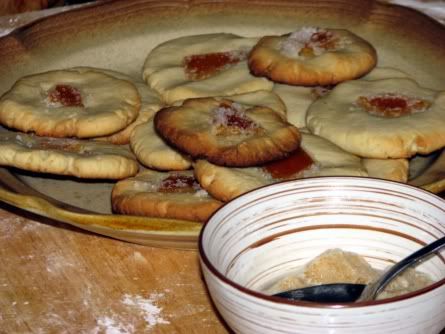 Coffee Granita
Ingredients:
2 cups water

1/2 cup granulated sugar

1 cup very strong espresso coffee, cooled
Directions:
Heat the water and sugar together over low heat until the sugar dissolves.

Bring to a boil.

Remove from the heat and allow to cool.

Combine the coffee with the sugar syrup.

Place in a shallow container or freezer tray, and freeze until solid.

Plunge the bottom of the frozen container or tray in very hot water for a few seconds.

Turn the frozen mixture out and chop it into large chunks.

Place the mixture in a food processor fitted with metal blades and process until it forms small crystals.

Spoon into serving glasses.

For

Lemon Granita

substitute 7-8 TB lemon juice
for the coffee.
Tea Cookies
Ingredients:
10 TB butter, softened

3/4 cup confectioners sugar, sifted

1 egg beaten

a few drops almond extract

2 cups flour

candied orange peel
Directions:
Preheat the oven to 450 degrees.

Cream the butter and sugar with an electric mixer until light and fluffy, then beat the egg, almond extract and flour until evenly mixed.

Spoon the mixture into a piping bag fitted with a nozzle and pipe 10 rosette shapes on each of the bakin sheets, if you don't want to pipe the mixture, simply spoon it onto the baking paper and press it down with a fork.

Cut the candied peel into small diamond shapes and press one diamond into the center of each cookie to decorate.

Bake for 5 minutes or until golden.

Transfer the cookies on to a wire rack and let cool.