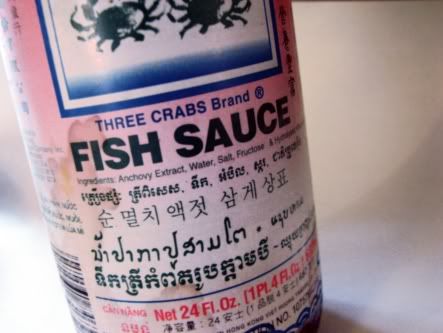 The only fish sauce I use for Vietnamese dishes.
When we got transferred from Fort Smith to North Little Rock we were pretty excited--but there was one pretty huge downside: no more Vietnamese markets and no more Pho Vietnam (the best Vietnamese restaurant EVER). I knew that Sam's Oriental Market in Little Rock would carry the bare bones of what I needed to cook at home, and I thought Van Lang's was pretty good (it seems to have gone downhill since we moved back to central Arkansas, or is it just the comparison to Pho Vietnam?), and Saigon Cuisine had some really great dishes. But compared to Fort Smith . . . ?

Then we found the Asian vendors at the Little Rock Farmer's Market last summer, and all was right in our world.
When I was at the farmer's market on Tuesday and caught a whiff of the mint nestled next to the lemongrass, I knew it was really and truly spring. The same with the first whiffs of the fishsauce and the limejuice as I prepared the Nuoc Cham Wednesday afternoon.


Can a condiment be a favorite food? If so Nuoc Cham is one of mine! I serve it along side every Vietnamese meal I cook. Every recipe I've ever found is different; after experimenting for around five years or so this is the one that I usually make (every now again I'll experiment with a new one just for kicks). There is always a bowl in the referigerator during the spring and summer.
Ingredients:
5 TB sugar

3 TB water

1/3 cup fish sauce

Juice of 2 limes

2 or 3 garlic cloves, thinly sliced

1 dry red chili

1 large green onion sliced, including green parts

1/4 cup chopped peanuts
Directions:
Mix all the ingredients in a large bowl--I use a pretty china one with a lid and just stick it straight in the fridge.

I usually forget to make it advance, but if you remember make it a day ahead, it improves with age.

This should make enough for several meals.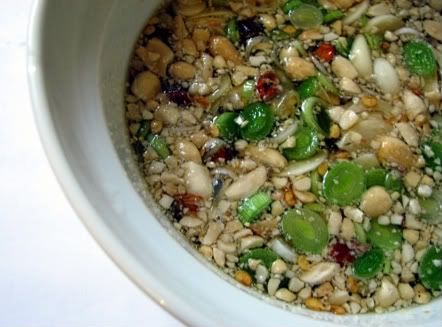 Nuoc Cham--a first taste of Spring
Another condiment that I serve regulary is Dua Gia--preserved bean sprouts. The crunchiness of the beansprouts is always a nice contrast with the softness of rice and noodles.
Ingredients:
2 TB kosher salt
2 LB mung bean sprouts
1 large green onion, cut into 1 inch long pices, and then quartered.
Directions:
Bring 4 cups of water along with the salt to boil.
Put the bean sprouts and green onions, mixed together, into the container you'll be storing them in.
Pour the salt water over the beansprouts/green onion mixture.
Press down on the bean sprouts until the water rises to the top of the vegetable mixture.
Duo Gia--in a recyled Whole Food container!