So, little did we know that the next time we would have BBQ comparable to our favorite, Whole Hog Cafe, that it wouldn't be a restaurant at all, but a friend's backyard. Look at the smoke ring on this guy!




At this point I'm just going to cut and paste what Michelle had to say about smoking pork for pulled pork sandwiches:



"So, here is the info about the pulled pork, and I did change the recipe a bit!


North Carolina Pulled Pork from
Steven Raichlen
's How To Grill:
I had a 5lb
Boston butt
roast and I covered it with Steven's basic Barbeque rub (
brown sugar
, sweet paprika,
black pepper
, coarse salt, garlic powder,
onion powder
,
celery seeds
and cayenne...but you can use your favorite rub). Make sure to massage that rub into the meat! I like to let mine sit for 24 hours...you can grill it right away, but it is so much better it you let it cure in the fridge.
About an hour before you are ready to start, take your roast out of the fridge and let it come to room temp and get your wood chips soaking in water. A lot of people like hickory chips, but being from Texas, I love my mesquite chips and hickory just tastes off to me! Once the chips are soaking, get your mop sauce ready. The mop sauce contains: apple cider vinegar, thinly sliced onion and jalapeno, coarse salt, brown sugar, black pepper and red pepper flakes. Now you can start your coals...I use a chimney starter (no lighter fluid for me! Mel knows why!) It will take about 30 minutes for the coals to get to a medium low heat. You want them to be glowing orange and ashen around the edges. Once they are ready, set up the grill for indirect cooking. Place an aluminum pan in the center that the roast will sit above; this catches the fat that drips off, keeps you from getting flame-ups and keeps the heat away from the roast, which is important for slow cooking. The coals will go to the left and the right of the pan and at this time you will add 1 cup of wood chips to each side. Place your roast on the grill, fat side up and make sure to slightly open the bottom and top vents. Close the lid and walk away.


Now the hard part is over. From this point on all you have to do is check the roast every hour. When you check it, add 12 new coals to each side and top them with 1/2 cup soaked wood chips. You also want to 'mop' your sauce onto the roast every time that you check it. Repeat this until the roast reaches an internal temp of 195 degrees. My 5 pound roast took about 4 hours. When it is ready, I like to take it off the grill and let it rest before pulling...or you can get the tough and hungry guys at your cook out to pulled the pork apart so you don't burn you hands!


This is were I deviate from Steven's recipe. He has a vinegar sauce to add to the pork but it is just too much for me. Instead I double the mop
sauce recipe
and add it to the
shredded pork
in a pan and bring it to a simmer on the stove...this allows the pork to soak up all of the sauce's goodness and cook the onion and jalapeno a bit. Serve immediately and you must have a yummy slaw to put ON your sandwich...it is absolutely the best way to eat this sandwich!"


Jerzy and Richard did an excellent job pulling apart the hot pork--I helped a little in between snapping pics.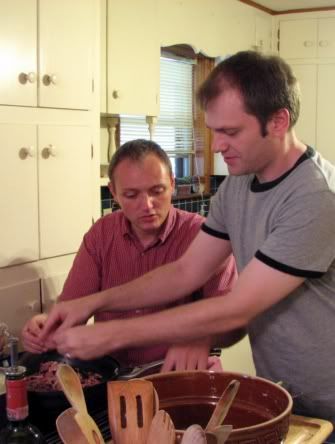 Our hostess, grilling brats because she was afraid there wouldn't be enough pork. She cooked enough food for a small army. She also made slaw, baked beans, and potato salad from scratch. We though we'd died and gone to heaven. And then we had the peach cobbler that Aga brought. We left with very full and very happy bellies.


Thanks Michelle!!!! And I have finally come around to eating coleslaw on top of my sandwich. Miche is right, it is absolutely the best way to eat a pulled pork sandwich. And here is one of the best compliments I can give on BBQ--I didn't add any sauce to my sandwich, the meat was so smokey and well-seasoned that it really wasn't necessary.