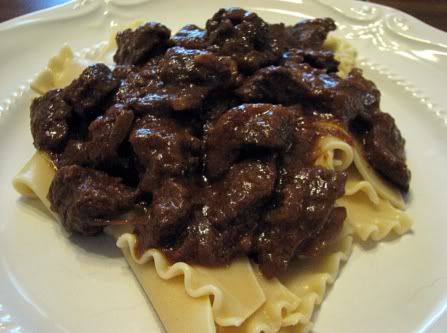 We went flea marketing and to the library book sale on Friday and I found lots of wonderful old kitschy cookbooks from the 50s and 60s, including the Betty Crocker cookbook that I grew up with in my Mom's house. I found a recipe in there for Hungarian goulash that called for a large quantity of ketchup--and since
Mom
and I had just made all that home-made
ketchup
I knew I had to make it.
My friend Michelle had recently given us some venison, so I used it instead of beef. Boy, Patty Dog was going crazy while I was cooking this up.
Ingredients:
1/4 cup shortening
2 LB beef cuck or round, cut into 1-inch cubes
1 small clove garlic, minced
3/4 cup ketchup
2 TB Worcestershire sauce
1 TB brown sugar (if you use the home-made ketchup recipe, I suggest leaving this out as the ketchup is already pretty sweet)
2 Tsp salt
2 Tsp paprika
1/2 tsp dry mustard
Dash cayenne pepper
1 1/2 cups water
2 TB flour
1/4 cup water
3 cups hot cooked noodles.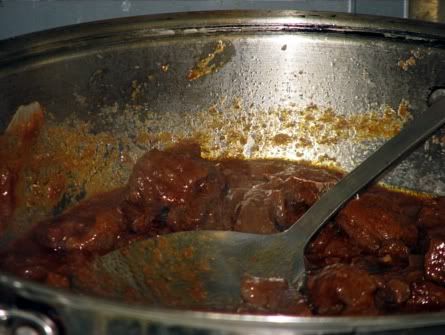 Directions:
Melt shortening in a large skillet.
Add beef, onion and garlic; cook until meat is brown and tneder.
Stir in ketchup, Worcestshire sauce, sugar, salt, paprika, mustard, cayenne and 1 1/2 cups water.
Cover and simmer for 2 to 2 1/2 hours.
Blend flour and 1/4 cup water, stir gradually into meat mixture.
Heat to boiling, stirring constantly for one minute.
Serve over noodles.
Also try:
PRINT