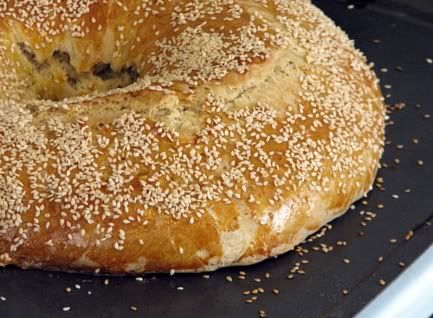 This is a recipe from a book (

The Vegetarian Epicure

by Anna Thomas) that my friend Michelle strongly recommended when we were out shopping last week. This was the first recipe that caught my eye while I was leafing through it at the store.
Ingredients

:
1 pkg. active dry yeast

1 1/4 cups lukewarm water

4 to 4 1/2 cups unbleached white flour

1 egg

2 tsp salt

2 tb melted butter or oil

1 egg yolk

4 tb sesame seeds
Directions:
Dissolve the yeast in the water and put aside for a few minutes.

Pour 4 cups of white flour into a large mixing bowl.

Add to it he egg, yeast and water, and butter (or oil)

Stir vigorously until the dough is smooth and somewhat elastic.

Add a little more flour to make a stiff dough.

Turn the dough out onto a lightly floured surface and knead until it is very elastic and smooth.

Form the dough into a ball and put it into an oiled bowl, turning it over once so all the surface is lightly oiled.

Cover the bowl with a tea towel and set it aside to rise for about an hour; it should double in size.

Punch down the dough, knead it a few more turns, then form it into as smooth a ball as possible.

With your fingers, poke a hole through the center of the ball.

Pull apart the dough carefully into a donut shape, making it even and pulling up dough from the sides into a tightly pinched seam.

Place the ring in a buttered pan, cover with a tea towel, and leave it to rise until nearly double.

Brush the top with beaten egg yolk and sprinkle a dense layer of sesame seeds over the entire visible surface of the loaf.

Bake at 375 degrees for about 50 minutes.