I've said it once, and I'll say it again--I can't throw away anything that I think I can squeeze some flavor out of. I saved some orange peel earlier this week and candied it this morning. When it gets done cooling in a couple of hours, I'm going to chop it up in bake it in a
Half a Pound Cake
.


Ingredients:
Peel from 2 oranges

2 cups sugar

2/3 cups water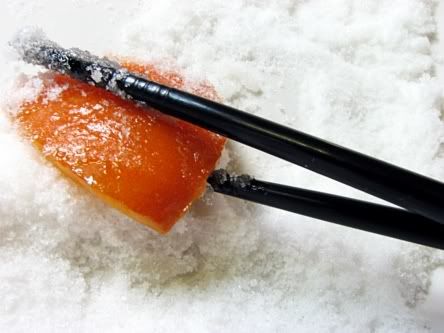 Directions:
In a saucepan cover the orange peel in water and bring to a boil.

Drain.

Repeat blanching two more times.

Put the orange peel to the side, and combine the sugar and water in the saucepan.

Bring to a low simmer and continue heating for 10 minutes.

Add the orange peel and continue cooking at a low simmer for 45 minutes or until the orange peel starts to become translucent (I think mine ended up cooking slightly over an hour).

Coat the orange peel in sugar and place on a rack to cool for several hours.

Add a cup of water to the orange syrup and bring to a low simmer.

Put aside to cool to room temperature and then add to

ice tea or mixed drinks.