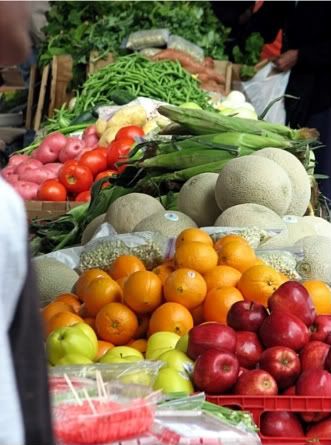 This is one of the most exciting dates in my year! No more Kroger's/Whole Foods/Fresh Market produce for months and months. We got downtown around 9:30 or 10:00 and quickly previewed the produce and then headed inside to grab breakfast and coffee and riff meal plans off of each other, based on what we had seen. And discussing how to rein ourselves in--I'm trying to get better, and only buy enough produce for three days, instead of loading up like I do when I go to the grocery store.
Over huevos, coffee, and red velvet cookies we ended up deciding on fried green tomatoes to go with the bbq chicken I had been talking about making all week, and nebulous ideas of Vietnamese noodles or rice. Vietnamese cooking, with its intense use of veggies and herbs (not to mention the convenience of having Asian--we believe Hmong--vendors at the local farmer's market) is always my kickoff to spring and summer cooking. We knew we'd have to get lemongrass and herbs for sure from our "dollar lady."
If you're planning on heading to the Farmer's Market to buy local, just pay attention to what's being sold and ask a lot of questions. From what I read in an article about the Asian vendors last year in the Arkansas Democrat Gazette, they grow their own produce. But we overheard someone talking to the man we bought the green tomatoes from and he said that some of his stuff was from California. A lot of the produce from Arkansas will be labelled. Also, do some research about what's in season when--that will help clue you in! I know my limes I bought weren't locally grown, but since they were there, and I was there, and I was going to be cooking Vietnamese food, I went ahead and grabbed a couple!
Visit the Famer's Market
homepage
for a listing of what vegetables are in season, as well as information about some of the vendors.
Also, check out the farmer's market on the other side of the river in North Little Rock, also open on Tuesday and Saturday morning. All the vendors here are Certified Arkansas Farmers. From driving by I can tell it is much smaller, but if local is important it should be worth checking out. Next time we head out I'm planning on stopping there as well. If you are parked on the Little Rock side of the river the trolley runs right by the North Little Rock market.
For more information visit
Arkansasfood.net


Right to Left, top to bottom:
Casa Manana, our favorite breakfast stop in the River Market.
Huevos Tirados, my favorite breakfast in the River Market--and the best food you'll ever get served in a styrofoam box!
Red Velvet cookie from Brown Sugar Bakeshop--I've never had anything like it--wonderful.
Produce--yum.
Our favorite of the Asian vendors: everything $1.
Critter--a locust, I believe from the Museum of Discovery.
Cutting boards that would match my pasta cutting rolling pin and biscuit cutter that I got at the Greek Food Festival last year.
Mushrooms

Cool free bags that the library was handing out a couple of weeks ago, we are trying to get in the habit of carrying them everywhere.
Our haul: mostly from our dollar lady, what was described as a radish (pretty much a slightly hotter green onion), green onions, mint, limes, an Asian mustard green (which she let us sample a bit of before we bought), lemon grass, and green tomatoes.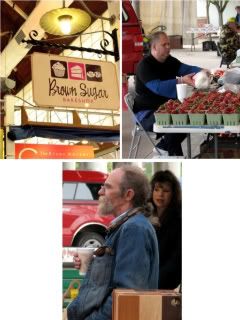 Brown Sugar Bakeshop, where we got the red velvet cookes.
The man we bought our tomatoes from

We think this is the same woodworker who made my biscuit cutter and pasta cutting rolling pin, we've seen him down here pretty regular.
What I was listening to while I wrote this
:
fellow Arkansan
Levon Helm's
,
Dirt Farmer