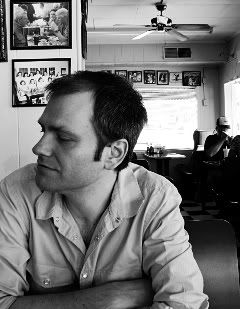 Richard sitting in a booth a McClard's waiting for our food. It's too small to see clearly, but above his head is a photo of President Bill Clinton and Dan Rather scarfing down bbq at the restaurant.
We took a bit of a detour on the bbq adventure last week, and headed southwest on highway 70 (instead of east between Little Rock and Memphis as originally planned). I'd checked out several books from the library in the last month about bbq and the last one claimed that not only was
McClard's
in Hot Springs "the best in the state since '28" (McClard's motto), but one of the best anywhere. We just had to check it out and see--it was also an excuse for us to head to one of our favorite spots in the state. We'd been going to Hot springs for years, and been hearing about McClard's for years--we couldn't believe we'd never eaten there.
I'm reading a book right now,
The South
by B.C. Hall (one of my husband's old professors) and C.T. Wood, that claims that Hot Springs was a regular den of iniquity well into the twentieth century, with gambling and prostitution rampant, until we finally got a governor (Win Rockefeller) who wouldn't take a payoff. This is also where another former governor, and former President, Bill Clinton grew up.
By the time we started going to Hot Springs, at the tail end of college, it was to hang out on the touristy bathhouse row and visit the Friday night artwalk and the German restaurant's bar with a big group of friends. After that my husband and I used to go at least once a year by ourselves. When we got transferred to Fort Smith it was too long of a drive, so we skipped a year.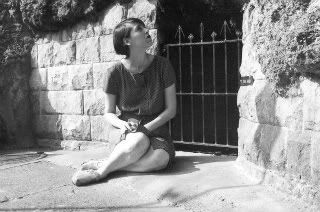 Me in the mid-nineties by one of the springs on bath house row.
Travelling from our home in North Little Rock, downtown Hot Springs is only 50 minutes to an hour away. The first leg, on Interstate 30 is typical interstate scenery (I included the picture for the pretty red clover that has been everywhere now that it is late Spring), but hwy 70 is a wooded stretch of road through rolling hills.

The rest area outside of Hot Springs has to date to a time before America was obese, because these are the narrowest stalls I've ever seen. Is it in bad taste to post a picture of a toilet on a food blog? Sorry, had to share!!!


When we got to McClard's we were informed that the electricity had been out for about an hour and they wouldn't be able to serve certain things. Our waitress was really apologetic and super friendly. She brought us the last two glasses of ice tea in the joint and we looked around while we waited for our order of chopped pork sandwiches with a tamale on the side.
The restaurant dates back to 1928 when supposedly the McClards, who used to run a hotel, forgave someone's $10 rent debt for a secret bbq recipe.
We liked the ambiance; it felt lived in and historical in a cozy way.
On a weekday afternoon the place seemed to be packed with locals.
This was my kind of hole in the wall. It reminded us a lot of Ed Walker's, a drive-in joint in Fort Smith that dated back to the forties.

The tamales quickly arrived. We had done our homework ahead of time, so we knew that the place was known for their tamales as much as their bbq. The tamales are what are know as southern or country style tamales; these are not what you'd get at a Mexican restaurant. The meat was yummy, and the masa seemed as though it had been soaked in sauce. The house hot sauce that we had on the side was peppery and flavorful. We approved. The tamale is part of a dish that McClard's is famous for the "whole spread" two tamales with fritos, beans, chopped beef, cheese & onions--the reviews I read from Southerners raved, some Northerners seemed a little confused by what the hell it was all about! The gentleman who was seated at the booth next to us was disappointed to find out that the lack of electricity made his waitress hesitant to bring a whole spread order out to him; he finally convinced her that if he wasn't happy with it he'd run home and stick in the microwave. He ended up staying and eating it cold and seemed to enjoy it!


Then our sandwiches arrived. Silence. I look over my shoulder to make sure there are no fervid and violent McClard's patrons standing behind me. Should I take my name off my blog so no one comes after me?
I'm afraid we were disappointed. What was all the hype about?


I don't think it was the lack of electricity. The sandwiches were warm enough. The meat just didn't taste like it had been smoked at all. The pork was nice and tender and melt in your mouth (my husband was disappointed that it was chopped, not pulled), but it had no flavor. And the sauce, while it had a nice lemony tang, had no fire at all to balance the intense sweetness.


My overall recommendation: this place is definitely worth a visit. Great service and ambiance. But, order the whole or half spread--I will next time we visit.
But don't take my word for it, there are hundreds of other reviews online! And, heck, everyone has an off day now and again.
After lunch we headed to bath house row and the promenade and spent an hour walking around.