What else to do with the first green tomatoes from the farmer's market than fry them up? I used this recipe and served them with jalapeno vinegar.
I've also been yearning to start experimenting with my own bbq sauces. We haven't picked up a smoker yet, so I had to use my oven broiler. But, oh well, it was yummy anyway!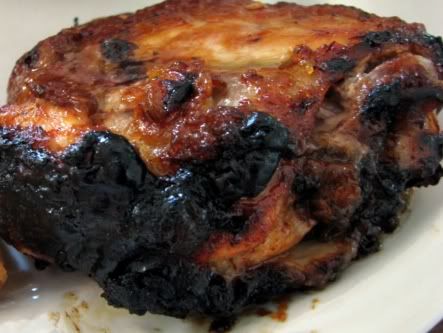 Ingredients:
Chicken for broiling (I use thigh meat)
For the bbq sauce (inspired by this one at bbq recipes for foodies):
2 cups cider vinegar
1/4 cup sugar
2 TB red pepper flakes
2 TB hot sauce
1 tsp salt
1/4 tsp freshly ground pepper
1 whole onion, grated
2 TB catsup
Directions:
Whisk all the bbq sauce ingredients together in a saucepan early in the day.
Bring to a boil.
Cover, and reduce heat to low.
Leave simmering all morning to thicken.
Your house will smell like vinegar!
Early afternoon marinade the chicken in the bbq sauce (you probably won't need all the bbq sauce--I had plent leftover for another time)

When you're ready to make the chicken, turn on the broiler.
Cook 8 minutes on each side, basting with bbq sauce you used to marinade every couple of minutes.
Your chicken will get blackened--yum.
Besides fried green tomatoes, I served mine with Southern biscuits and a very pared down version of

Southern Style Navy Bean Soup( no ham bone, sausage, or turnip greens, just the other veggies and salt pork).

What I was listening to while I cooked: A 70s Texas mix that included folk/country singers such as Guy Clark and Townes Van Zandt