Our exit off of I-40.
One fun thing about being in a career that transfers us a lot is discovering a new area and new things. After being in North Little Rock for over a year, and reading
The Corn Bread Nation 2: The United States of Barbecue
(by the Southern Food Alliance--check out their blog on my blog roll) , we've come to the realization that we live near one of the great food capitals of the world. No, not Paris, France, nor Naples, Italy--Memphis, Tennessee.
Much like wines and cheeses in Europe, BBQ is very regional in appearance, flavor, and tradition. Ten miles down the road and they do it a different way. Look in a local phone book and you'll see at least fifty listing for BBQ. I did a little research and found that Hwy 70 between Little Rock and Memphis is dotted with BBQ joints. We've decided to make our culinary purpose in life (okay, one of many) to find the best BBQ between here and Memphis.
We decided to start extremely local, at a joint a couple blocks from the townhouse we lived in when we first moved here, JoJo's Bar-B-Q in Sherwood.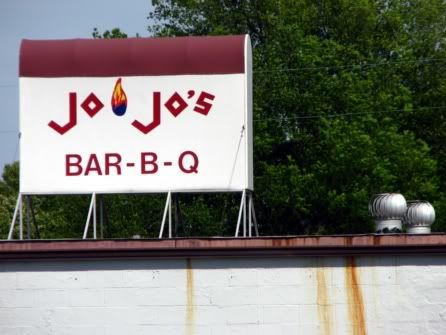 Jo Jo's in Sherwood, Arkansas
We ate at Jo Jo's twice. The fried okra is wonderful and my husband swears the onion rings are divine. The pulled pork wasn't as quite melt in your mouth as I prefer. And the mild sauce didn't really have any character and the hot sauce overpowered the meat.



Great BBQ isn't always found in a shack, sometimes its in a strip mall: Whole Hog Cafe in North Little Rock, Arkansas.
Whole Hog Cafe
doesn't look like anything special from the road, but word of mouth, and internet reading had pointed us in its direction. Whole Hog's home base is Little Rock, Arkansas, with fourteen locations in Arkansas, Tennessee, and New Mexico. We stayed local and went to the one here in North Little Rock. Whole Hog Cafe is listed in Fodor's travel guides as one of the five restaurants not to miss while travelling through Arkansas, and they have won numerous awards on the BBQ competition circuits (including Memphis-in-May 2002 First Place Whole Hog and Second Place Ribs). It was also mentioned on Rachel Ray's
Tasty Travels
on the Food Network.
Usually all that would be a complete turn off to me as a "Hole in the Wall" junkie (and not an especial Rachel Ray fan), but I have to admit the accolades are deserved.
Right to left: we sat at the back of a large dining area, awesome bbq sauces, one trophy display of many.
We got there around six or seven o'clock on a Friday night and the place was hopping. All sorts of people eating in, and picking up. We had the pulled pork plate, which included two sides. The sides were pretty limited, we each got chips, I got bbq beans and my husband got potato salad. We soon figured out why the sides were limited--the focus is on the meat. It's dry rubbed with spices and then hickory smoked for twelve hours (This was according to he website. According to our take out menu, the meat is pecan smoked for fifteen hours--maybe each location is a little different)--and yes, it's melt in your mouth soft!

A choice of six bbq sauces is on every table. We each have our favorites already. I love #4, a Carolina style vinegar and spice. Richard loves #6, a German style mustard and vinegar, but he loves #4 almost as much and went halfsies on his sandwich.



The bbq beans and potato salad were yum as well. Richard said the coleslaw was excellent and he had his, as is traditional (locally anyway), on his sandwich, though he hasn't yet talked me into eating it that way.
And to top it all off, they had a great local beer on tap (which never ever ever hurts),
Diamond Bear Pale Ale
out of Little Rock.
The service was quick and friendly.
It's going to be hard to continue down the road on to the next stop in our adventure with the lure of Whole Hog Cafe. We'll just have to find room in our stomachs for more bbq in addition to what we'll be eating at Whole Hog.
What we were listening to this leg of our quest:
Tom T. Hall
on the ride up, and various blues songs in the restaurant. Tell me Tom T. Hall's
Shoeshine Man
doesn't put you in the mood for good Southern food.