You may have noticed I'm banh mi crazy right now. The arrival of the farmer's market'll do that to me. Instead of posting up the wonderful star anise grilled pork I made for more banh mi, I'll show you the side dishes. Don't worry, I won't be able to stop myself from posting up the banh mi filling sometime down the road.


A while back (Easter Dinner) I made some grilled asparagus. I just can't throw anything away that I think I might get some flavor out of later--so I threw the asparagus trimmings in the freezer. And last week I made Com Xa Ga (lemon grass and chicken rice) using meat I had cut off of three chicken thighs. Well I saved those nice meaty bones, too. (I also saved the orange peel from some oranges I used for a Costa Rican casserole, but that'll be another story--and the casserole didn't turn out so hot, so that's the last you'll hear of it.)



Ingredients:
A small amount of vegetable oil or peanut oil
3 meaty chicken thigh bones
One onion quartered
2 stalks of lemongrass, trimmed and smashed
4 thin slices ginger, peeled and smashed
2 small red chilis
A couple black or white peppercorns
3-4 oz Asparagus trimmings
Water to cover
2 TB fish sauce
A couple squirts lime juice
Directions
Heat the oil and brown the chicken thigh bones and the onion.

Add the lemongrass, ginger, chilis, peppercorns, and saute until fragrant.

Add the asparagus and saute for a couple of minutes.

Cover with water about and inch above the igredients.

Add the fish sauce and the lime juice.

Bring to a boil, and then turn down to a slow simmer.

Simmer for an hour.

Strain the broth.

Run cold water over the chicken thighs until they are cool enough to handle and shred off what chicken meat is left and add to the soup.

Return the soup to the stove and add a small bundle of cellophane noodles, they will cook in a minute or less.

Serve with Nuoc Cham and herbs (I used mint, cilantro would be good).
This made enough for 6 small bowls of soup as a accompaniment to banh mi. It would probably make 2 bowls of soup for a meal.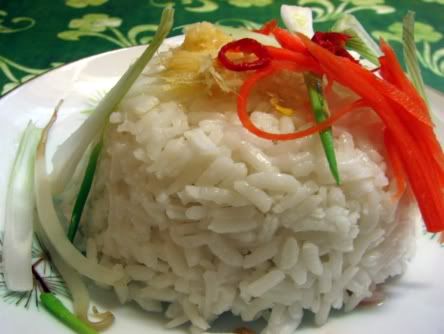 Rice Salad


As unseasonably warm as it has been I was craving something cool when I came up with this side dish. I know I'll be able to come up with an infinite amount of garnishes and dressing to keep this salad alive all spring and summer long.
Ingredients:
2 cups cold cooked long grain rice (preferably jasmine, but I didn't have it so I used basmati)
Garnishes: I used Duo Gai -- preserved bean sprouts, shredded green onions, shredded carrots, three little slices of a small red chili, and 1/4 tsp shredded ginger.
Dressing: I used Nuoc Cham.

Directions:
Press 1/2 cup of cooked rice into a small bowl, cover with a pretty plate and turn over, shaking slightly to loosen the rice from the mold.
Sprinkle garnishes and dressing over rice.
Garnishes I'm thinking of using:
Pickled Daikon
Thinly sliced cucumber.
Shredded papaya.
Chunks of oranges or grapefruit.