Ingredients:
1-2 oz rice stick noodles

3 eggs

1/2 TB water

1 large green onion, white part slice, green part cut into matchsticks

2 anchovy fillets, crushed into a paste

salt and pepper to taste
Equipment:
Directions:
Cover the noodles in hot water and let sit for 20 minutes.

Meanwhile bring 4 quarts of water to boil.

Scramble the eggs and the 1/2 TB water

Add the crushed anchovies and scallions to the egg mixture.

Add the salt and pepper.

Add the noodles to the boiling water for 30 seconds and drain.

Rinse in cold water and mix into the omlet mixture.

Pour into a dish that will fit your steamer.

Steam for 15 to 20 minutes.
For banh mi:
Cut omlet to appropriate size.

Slice open baguette and add mayo to one side.

Layer the omlet with shredded carrots, preserved beansprouts, mint leaves, Nuoc Cham, and/or Siricha.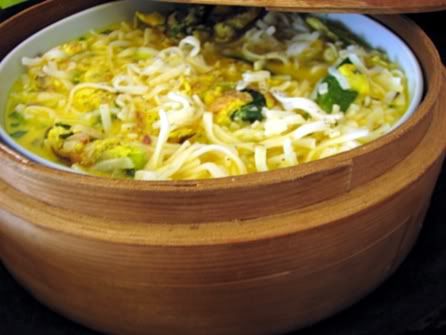 What we were listening to while I made the baguettes and we ate brunch
: a
Charles Trenet
compilation, Richard said it was like hearing Looney Tunes first thing in the morning (he loves Looney Tunes but somehow this didn't sound like a positive statement!)