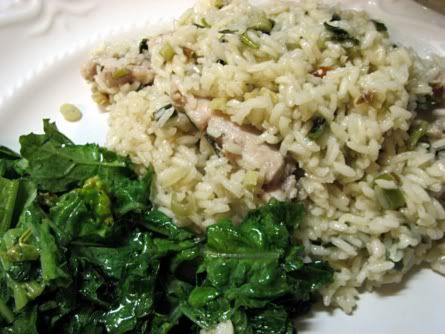 Before Condiments
Ingredients:
Vegetable oil
2 stalks lemon grass, thinly sliced into rounds
2 large green onions, thinly sliced into rounds
2 cloves garlic, minced
1/2 dried red chili pepper, thinly sliced
3 chicken thighs, meat cut away from the bones (reserve meaty bones in the freezer to make future stock)
1 1/2 cups long grain (preferably jasmine) rice
2 cups chicken stock
2 TB fish sauce
Directions:
On medium to medium high heat, saute lemongrass, green onions, garlic and red chili.
Once vegetables are softened add meat and brown.
Add rice and coat with the vegetable oil.
Add broth and fish sauce and bring to a boil.
Cover tightly and cook for about 15 minutes or until rice is done.
Serve with Nuoc Cham, Duo Gia, Siricha (Vietnamese hot sauce), and mint leafs on the side--everyone dresses up their rice to their personal taste.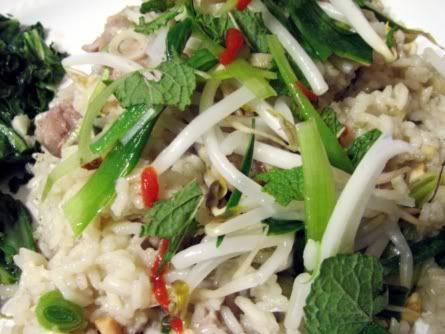 After condiments
:
nuoc cham, duo gia, siricha, and mint leaves
I also served Asian greens on the side. Our vendor described them as mustard greens, but they aren't the same as Southern mustard greens. I cooked mine sauteed in sesame oil, garlic, salt, pepper, and a dash of white vinegar.
What we were listening to while we ate
: the debut of my husband's weekly radio show,
Logopolis
, at City of Glass Radio, which included everything from
The Decemberists
to
Acid Mothers Temple
, and
Gram Parsons
to
The Happy Mondays